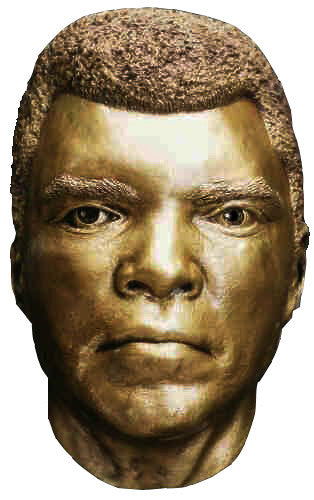 Muhammad Ali Gold Face Cast, Highly Detailed Rare Display Item
Regular price $599.99 $299.99 Sale
MUHAMMAD ALI FACE CAST : FANTASTIC HIGHLY DETAILED DISPLAY ITEM
This is an actual face cast of boxing champion Muhammad Ali made
during a more youthful time to preserve his legendary likeness
for the ages. This plaster cast has superb detail and can handily
be hung on a wall from the rear.
Ideal for display with other Ali relics like boxing gloves, fight programs
and photos. One really incredible display idea is to place this goodie in a
shadow box frame with a matted Ali autograph just below. Handsomely
hand colored in realistic Gold-like tones, this museum quality replica
of boxing's most colorful champ. A superb addition to any
serious sports collection and a thoroughly unique gift idea.